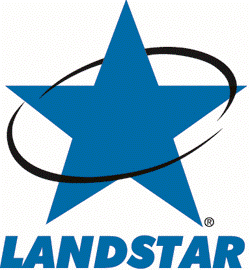 Landstar is a company whose main purpose is to connect shippers and receivers to anyone that can help them move their freight. For almost 13 years, I've been working with Landstar to make my business successful. There are benefits to being leased to a carrier like Landstar. They allow you to work on your schedule. If you want to take time off, you do so at your leisure. Landstar will manage your weekly fees, such as worker's compensation, bobtail insurance, license plate fees, and permits. For a 2 person operation like I have, that is usually about 80 bucks a week in fees. Those fees are pulled out of the check whether you are working or not. If you are just one person, you will pay around $50/week.
If you are taking an extended amount of time off, you just pay Landstar those fees and make sure that your logbook is current, and you can come and go as you please. Landstar does prefer that you make some money every year because it is a business they are running. Although there are retirees who are leased onto Landstar who only work during the summer and keep their payments to Landstar current. To put equipment on with Landstar, the tractor does not need to be any particular make, model, color, or year, as long as it is capable of functioning with an EOBR.
To lease onto Landstar you must:
Must be at least 23 years of age, possessing a Class A CDL with HazMat (H) or combination (X) endorsement.
No more than two at-fault accidents and two motor vehicle violations within the previous 36 months, or no more than one at-fault accident and three motor vehicle violations during the previous 36 months.
No involvement in a preventable DOT recordable accident in the past 12 months.
Operators must have one year (six months for Expedited) of verifiable over-the-road driving (including snow and ice) within the past three years or three years verifiable experience in the last 10 years, of which six months must be within the previous 48 months, with a Class A (or Class B for Expedited) CDL using the type of equipment similar to what you will be operating at Landstar. No felony convictions within the past 7 years. All other felony and misdemeanor charges are reviewed on a case-by-case basis.
No positive drug or alcohol test including refusals and pre-employment results.
No suspensions of more than 30 days for moving violations in the last 36 months.
No more than one serious violation as defined on Table 2 of section 383.51 of the FMCSR handbook within the previous 36 months prior to qualification.
No railroad-highway grade crossing offenses as defined on Table 3 of section 383.51 of the FMCSR handbook within the previous 36 months prior to qualification.
No citations or convictions for Reckless Driving or Careless Endangerment during the 36 month period prior to the order date of the MVR.
No DUI charges during the 60 month period prior to the order date of the MVR in a personal or non-commercial vehicle and never in a commercial vehicle.
Proficient enough in English to understand highway traffic signs and signals, respond to official inquiries, make entries on reports and records, and converse with the public.
In order to stay at Landstar, you must:
Be safe
Do what you say you will do in regards to the loads you are hauling
Have a low CSA score
Maintain a legal log book (All Landstar new hires must install an EOBR/ELD/AOBR)
Have equipment that is current on inspections which are required every 4 months.
As a truck owner/operator, you can work for yourself on your own without a lease to a carrier, but being on board with a lease carrier like Landstar is a good way to get your feet wet in the owner/operator world and understand how to succeed. It's also a good way to get to know other people in the business and see what you can offer to help them accomplish their goals.
Landstar offers it's leased drivers numerous different paths. You can drive your truck, hire people to drive your truck or trucks, become an agent who sells Landstar's capabilities to customers, or even work in a corporate capacity in one of Landstar's offices, meeting the needs of the global marketplace and potentially one day becoming the CEO.
I will say that luck can play a part in your trucking career, but having the right people behind you in sticky situations can make all the difference. Landstar has been there for me over the past 12 and a half years with work, freight, and opportunities. And for that, I'm appreciative.